Indoor Air Quality FAQ
What type of things are usually found in the duct work?
Some contaminants typically found in air ducts are mold, bacteria, pollen, pet dander, insects, rodents and their droppings, sheetrock, wood and concrete dust, sawdust and even coffee cups and soda cans, we have removed some interesting things performing duct cleanings throughout the years.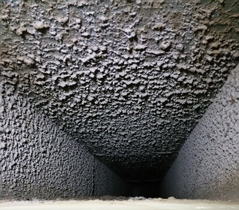 How often should I have my air ducts cleaned?
Most homes should have their ductwork cleaned every 2-5 years. However, no 2 homes are alike. If you live near new construction (lots of dust), have lots of people in and out of your home, regularly burn candles or incense, have lots of kids and/or pets, or have chronic health concerns, then you may need it cleaned more often.

Conversely, if you have no children or pets, don't live near any construction sites, don't have chronic health issues, and don't have tons of traffic through your home, you may be able to have it cleaned every 5-8 years without a problem.


What are the Health Benefits from Cleaning My Home's Air Ducts?
As discussed above, your home's air ducts collect a variety of contaminants, such as mold, fungi, and bacteria. Getting rid of these contaminants from your home's heating, ventilation and air conditioning system is an essential element for improving your indoor air quality - and your health.


Will cleaning the air ducts help with allergy and asthma relief?
Yes, by removing the allergens from the ductwork. Every time your heat or air conditioning system turns on, it further aggravates allergies and asthma by forcing those allergens into the living space of the home and into the air you breathe. Actually, many customers tell us that their doctors are recommending air duct cleaning for that exact reason, but there are more solutions to truly improve the air you breathe if you are an allergy or asthma sufferer. Our technician will be happy to go over options unique to your circumstances.


Do you offer duct sanitizer and is it safe?
The sanitizer we use are safe, used in hospitals, schools and nursing homes. We currently utilize Envirocon a chlorine based products manufactured specifically for ventilation system usage. They are EPA registered products and will kill mold, dust mites and many types of bacteria. They leave no lasting residue and break down to simple table salt. Envirocon is indicated for use in homes where people and pets are present.

EnviroCON® product is highly effective in eliminating odor-causing microorganisms as well as those associated with mold, mildew and bacterial growth. As the industry leader in chlorine dioxide technology, Bio-Cide International has developed and patented numerous applications directed at controlling microorganisms. Chlorine dioxide is a powerful antimicrobial compound effective against a broad range of both gram-positive and gram-negative organisms as well as yeasts and molds.

A point of contact application, EnviroCON® eliminates odors at their source through a chlorine dioxide release-process that destroys organisms at the origin. EnviroCON® uses no perfumes or masking agents.

EnviroCON® is an EPA registered, ready to use, safe, low toxicity formulation that inhibits the growth of odor causing organisms as well as those organisms associated with mold, mildew and bacterial growth in the air and in HVAC systems.

An enhanced benefit of EnviroCON® is its low toxicity and safety rating from the EPA. As a result, EnviroCON® may be used in occupied spaces. EnviroCON® does not use any environmentally damaging propellants or flammable ingredients.

Use EnviroCON® as a part of a regularly scheduled maintenance plan to ensure fresh clean air.

For bacteria, mold, mildew, fungi and algae, there is not an easier, safer or more effective product on the market.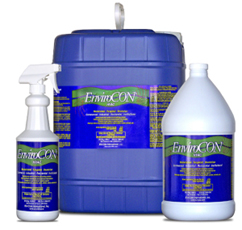 How can cleaning the air ducts actually save me money?
Cleaning the air ducts can save you money by increasing the efficiency of your heating and air conditioning system. A cleaner system does not have to work as hard to keep your home at a comfortable temperature. Research done by the EPA shows that a buildup of even .042 inches of dirt can result in a decrease of furnace efficiency up to 21%. The dust that stays in your system will accumulate on the fan blades of the blower motor, the coil and the inside of your ductwork, which can reduce air flow up to 40%. This translates into higher energy costs for you.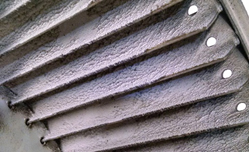 What type of equipment do we use?
We utilize a high pressure compressed air and power vacuum truck system. The power vacuum truck is capable of moving 15, 855 cubic feet of air per minute. The high pressure compressed air-patented Viper Whip system has 220lbs of pressure and 200 cubic feet of air per minute. Our system can easily remove the most stubborn stuck-on debris inside the ductwork, especially in the corners. We have in the past used the portable and brush style machines, while they are convenient and much less expensive, they just don't have the power needed to effectively clean the ducts in our opinion.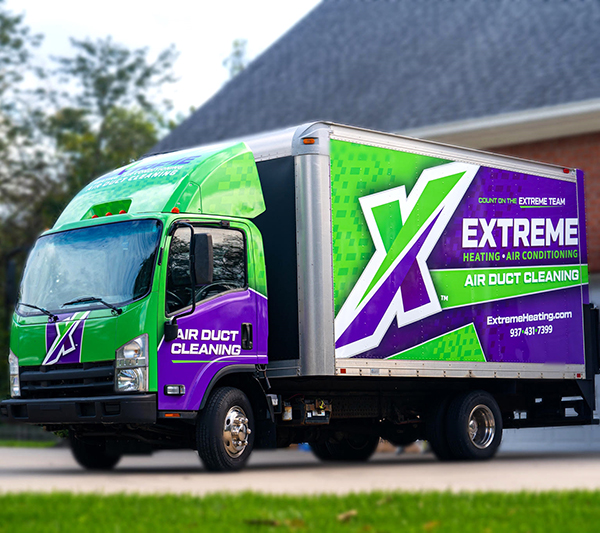 Can we see before and after pictures after the air duct cleaning?
Yes! We believe it's important for you to see what's in your ducts and what is removed. We do try to take pictures and videos of common areas that's accessible. We do offer a duct inspection service utilizing a 50' long full color camera. This service is additional and typically is used to find blockages or broken duct work that's not accessible.
Address
712 North Fairfield Road
Beavercreek, Ohio 45434