HVAC Maintenance & Inspection Darke County OH
Regular HVAC maintenance for your Darke County OH HVAC system is crucial for its long-term functionality. If you don't perform routine maintenance, drain lines can clog, air filters can decay, and suddenly you have HVAC problems that require costly repairs.
If your air conditioning is not working efficiently, not only could it lead to repairs, but it could also lead to high energy bills. Save money by contacting the expert technicians at Extreme Heating for an inspection today.
---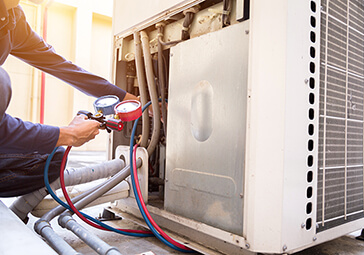 Extreme Heating HVAC Maintenance
Our company serves Darke County OH from New Weston, Greenville, Arcanum, and more.
Trained and certified, our technicians work efficiently to deliver quality service at a reasonable cost. Performing annual or preventative maintenance can save you high repair costs and even higher energy bills.
Trust the experts to service your HVAC system today.
---
HVAC System Inspection, Maintenance, and Repairs
There are many components to an HVAC system that needs regular maintenance. HVAC systems need
If these basic preventive maintenance tasks aren't performed, it quickly leads to future problems with your home heating or air conditioning. Many homeowners don't realize that minor problems can indicate future problems that will need major repairs if not addressed.
An HVAC technician inspects all the components of a heating and cooling system to identify problems and faulty equipment, perform necessary cleaning, replace parts and filters, check the refrigerant level, and more. They even check the carbon monoxide detector to ensure air quality.
There are a lot of moving parts to check. Even something as small as a programmable thermostat on the wrong setting can prevent the proper functioning of an ac unit or furnace.
Annual Maintenance with Quality service
Trust the professionals in Darke County Ohio, to perform your HVAC maintenance.
With regular maintenance on your HVAC unit, you ensure efficiency, save money, and enjoy peace of mind that your family is safe and your house is at a comfortable temperature.
Call today for an appointment to get started!